422013
Director: Brian Helgeland
Stars: Harrison Ford, Chadwick Boseman, T.R. Knight, Nicole Beharie
Release Company: Warner Brothers
MPAA Rating: PG-13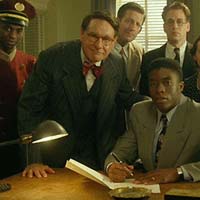 Literary critic Jacques Barzun once wrote "Whoever wants to know the heart and mind of America had better learn baseball . . .," so a movie about legendary Jackie Robinson should be a natural for exploring America's struggles with racism. But dealing with an icon presents huge problems. Robinson looms so large that any efforts to humanize him dramatically would outrage a large portion of his fan base.
Thus, director/writer Brian Helgeland plays it safe in 42. He generates a script that touches the well known base paths of Robinson lore without penetrating the man's heart. Even casual baseball fans know that Jackie Robinson broke the "color barrier" in baseball in 1947, that opponents and even teammates threatened to boycott games if he took the field, that he received numerous death threats and continual verbal abuse, that Enos Slaughter once deliberately spiked him, and that Dodger captain Pee Wee Reese draped his arm around Robinson to publicly demonstrate team acceptance. Helgeland includes these iconic moments, but not much else of substance.
Icons are such a challenge to humanize. It's the same reason that so many movies about Jesus Christ fall so flat; more interesting dramatic treatments create immediate controversy. To expand his material, Helgeland rightly elevates Branch Rickey to near equal billing. Rickey's life could easily be mined for tons of baseball material as an iconoclastic innovator who first brought the farm system and spring training facilities to baseball before focusing on integrating the game.
Indeed, Rickey deserves recognition for his historic role, but the movie barely scratches the surface and never ventures far off first base. Did Rickey strive to break the racial barrier due to strong religious convictions, or was he primarily intent on gathering the top available baseball talent to win the World Series? The movie staunchly clings to well known terrain and hedges its bets.
Unknown actor Chadwick Boseman (as Robinson) and craggy veteran Harrison Ford (as Rickey) have their game faces on and have put in the necessary research and training. Ford moves and even talks much like the Hall of Famer that you can view in newsreels or Ken Burns' documentaries while Boseman takes credible baseball swings, fields first base adequately, and looks like a base stealer (despite Helgeland's over-the-top direction and storyline). Boseman's clenched jawline appears ready to handle the racial blows dealt the real legend, but the script handcuffs the actor and fails to allow enough to do.
 As far as looks, one of the best features of the film is the cinematography--the film stock technicolor gives it a 1940s appearance. But it's disappointing that the film's best features are all superficial. A competent film that could best be played on ESPN annually on April 15 (MLB's Jackie Robinson day to commemorate his 1947 debut) or during rain delays, 42 simply lacks depth. Tomes have been penned about Robinson, Rickey, and racism in baseball. You can even learn more about the pair of protagonists from Wikipedia than you will from Helgeland's film. In fact, even the "made for TV" production Soul of the Game delves deeper into this subject matter.
Jackie Robinson deserves a great film in his honor, but his iconic status may present too great an obstacle for movie studios that prize box office receipts over artistic merit. It's like a "Jesus complex" that places Robinson on too high a pedestal that prevents filmmakers from making him human. Movies that focus on other characters that reference Robinson stand a better chance to rank with Bull Durham, Eight Men Out, or Moneyball when it comes to portraying the inner workings of baseball.