The Traveler1974
Director: Abbas Kiarostami
Stars: Hassan Darabi, Masud Zandbegleh
Release Company: The Criterion Collection
MPAA Rating: NR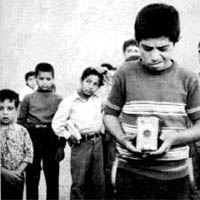 Internationally recognized as Iran's finest film director, Abbas Kiarostami now has over forty films on his resume. The most prominent of the Iranian New Wave filmmakers, Kiarostami frequently shoots in documentary style while setting his films in rural villages and using a child protagonist. Such is the case in his first feature film, The Traveler (Mossafer) that was released in 1974 and now thankfully finds its way as a DVD extra on the Criterion Collection's Close-Up—a masterful true-to-life narrative about a film buff who impersonated filmmaker Moshen Makhmalbaf.
Now often compared with neo-realistic directors Satyajit Ray and Vittorio de Sica, Kiarostami channels Francois Truffaut in his debut feature, as The Traveler mirrors The 400 Blows throughout. His Leaud is a young Iranian boy named Hassan Darabi who plays Qassem, a brash 12-year old so obsessed with soccer that he scams a neighborhood newstand owner, elementary school children, and his street soccer team comrades in order to raise enough money to see his favorite team play a match in Tehran. He never even considers attempting to seek enough funding to allow his best friend to accompany him on the trip--though he insists on his assistance to get the money.
Shot on location in black and white, The Traveler parallels Truffaut's groundbreaking film so closely that it appears Kiarostami deliberately structures his film like it. The protagonists in both movies are about the same age, relatively amoral and independent, incorrigible in school, neglected at home, and have parents in apparently dysfunctional relationships. The parents remain clueless about disciplining their child effectively. Kiarostami's film extends this concept even more than Truffaut, as Qassem's mother obstinately pleads with the school master to administer corporal punishment on her wayward son--they can do nothing with him.
Both Truffaut's film and Kiarostami's initial feature isolate their young protagonist in the end. In this case, Qassem takes a lonely nighttime bus ride away from the familiar environment of his village (where his father's name is established and trusted) to the anonymity of metropolitan Teheren, where no one cares who he is. Qassem must make his way to the soccer stadium and stand in line for highly sought after tickets long before the match.
As simple as this story remains, Kiarostami finds ways to instill realistic drama into the mundane and gain sympathy for the boy's situation. Like most of Kiarostami's films, it involves a journey of discovery but the most telling sequences are composed with his signature long shots that illustrate how the protagonist fits into the natural and indifferent universe. That aspect differs greatly from Truffaut's unforgettable final shot in The 400 Blows. Nevertheless, Kiarostami's denouement of this simple narrative remains similarly haunting and effective with his long ranging yet intimate final shots.