Primary1960
Director: Robert Drew
Stars: John F. Kennedy, Hubert H. Humphrey, Jackie Kennedy
Release Company: Drew Associates
MPAA Rating: NR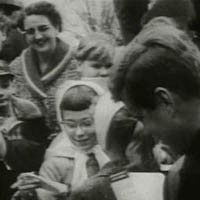 Although it's now common to see TV journalists carrying hand held cameras to follow Presidential candidates along the campaign trail, it wasn't always that way. The nature of the technology has greatly shaped campaign itineraries and strategy over the years. Using television became essential for politicians in the fifties and sixties, but large, clunky cameras meant that candidates would structure their day so that they would sit in front of those cameras during prime time for scripted campaign messages.
In the 1950s filmmaker journalist Robert Drew developed an idea for a different type of documentary that strove for dramatic logic. Documentary films had been constructed with "word logic" like a college lecture that used images as illustrations. Drew wanted to film REAL life drama as it happened, so he gathered a corps of like-minded filmmakers to act as a team for a project. It's a style that popularly is known as cinema verite though some of Drew's associates prefer the term direct cinema. Drew developed a list of rules to follow:
No interviews
Never ask anyone to do anything
Never ask a subject to repeat a line
Never ask a subject to repeat an action
Remain unobtrusive
To make such a film successfully would require local control--that the same people who shot the film do the editing as well. Only they would have the proper context to select the appropriate footage. Drew had a dedicated group enlisted--many would go on to distinguish themselves with their own documentary films: Robert Leacock, Albert Maysles (Salesman), D. A. Pennebaker (Don't Look Back).
All that remained was selecting a suitable subject--anticipating an event that would lend itself to drama. Certain to follow an unpredictable path, but with luck could end up being a significant film. Drew more than lucked out when he decided to film the 1960 Democratic primary race in Wisconsin between John F. Kennedy and Hubert H. Humphrey. The resulting film, Primary, became a landmark film that continues to be studied in film courses and is widely revered universally by film buffs.
After obtaining permission from both senators, the project was on. It provides remarkably intimate portraits of the Wisconsin campaign. Never again could such a film be created since portable filmmaking equipment allowed Drew and his team to fade into the background to such a degree that the candidates proceeded naturally through their routines. Leacock even captures Humphrey asleep in the car en route to his next event.
What is so remarkable about Primary are the small unscripted moments captured throughout the film--the faces of the Wisconsin farmers who warm to Humphrey's charm during his speech, JFK's reactions to the numerous children and youth flocking to him en route, Jackie Kennedy's nervous hands and expressions (clear she is not enjoying the campaign), a professional photo shoot of Kennedy as the filmmakers record the process.
Much of the candidness is due to the fact that the candidates didn't really understand exactly what was going on. So groundbreaking was the process of small mobile cameras in 1960 that neither candidate paid much attention to the filmmakers. They must have regarded them as rather odd people who had some kind of pet project along the lines of home movies. Of course, later John F. Kennedy saw the film after he had won the general election and was quite impressed; this would lead to Drew's next major documentary, Crisis: Behind a Presidential Decision.
Although The War Room comes close (probably because an eventual Clinton victory seemed remote at the onset), no documentary has since captured the inside views of a Presidential campaign so naturally. This could never happen again with a serious contender despite the greater numbers of mobile cameras. Candidates are so aware that everything they do can become breaking news on CNN that they carefully "edit" themselves and consciously strive for soundbites instead of just being themselves. That makes Primary even more significant--as a blueprint for pure and true documentary film and as a nostalgia piece for a far more innocent period in U.S. politics.