Amour 2012
Director: Michael Haneke
Stars: Emmanuelle Riva, Jean-Louis Trintignant, Isabelle Huppert
Release Company: Sony Pictures Classics
MPAA Rating: PG-13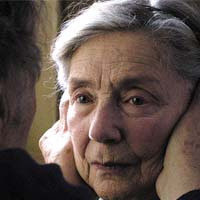 Winner of the 2012 Palme d'Or, Michael Haneke's Amour finally began screening in Phoenix this weekend and will open in more U.S. theaters, following its Oscar nomination success. Long overdue, this tender treatment of an aging couple struggling to cope with a debilitating series of strokes deserves attention. Actors Jean-Louis Trintignant and Emmanuelle Riva draw us into their Parisian apartment and paint an unforgettable portrait of old age.
But it's universal ... a narrative that relates to all of us. Provocative ... because we realize that we likely are destined to face the same issues. At times the quiet, claustrophobic story becomes as difficult to watch as the mirror does for Anne (Riva).
It's our story too--we've had relatives, parents, or friends who have dealt with senility, mobility issues, incontinence, etc. We have the same fears for ourselves. Tears frequently formed when scenes came close to home. Like Anne and Georges (Trintigmant), my parents were fiercely independent--had no desire to live out their final days in a nursing home or hospital. My mom had a small stroke and was never quite the same after; she also had to resort to using a wheelchair because her knees lacked cartilage. During one illness my dad had to don adult diapers, and the last few years he attempted to be within 15 seconds of a restroom to avoid inevitable embarrassment. He didn't always make it.
My parents wanted to live on their own. They finally compromised, abandoning their home to re-locate to an assisted care facility a few minutes away from my sister.
Amour begins abruptly. Firemen pry open a door to an apartment where the smell of death reeks--everyone covers their noses to subdue the stench. Duct tape seals the inside doors and windows from the outside. An elderly woman dressed in blue lies thin and withered ... rigor mortis has set in. She has been dead for days--flowers are strewn about her pillow. The opening minutes prepare for the painful moments to come--provides the relief necessary to endure the inevitable trials.
The film then flashes back to an earlier time inside a concert hall. Haneke has the camera linger on the audience, and we notice an elderly couple very engaged with the piano concerto. We soon await Anne and George to arrive in a familiar apartment as they come home. The banter is polite, courteous, and ordinary. These two know each other intimately and are quite comfortable with each other. We later learn they are both former piano teachers--the concert was performed by a former student. 

Ah--to be an artist and live in Paris... and ideal place to live in both your prime and as a senior. Anne prepares breakfast as she's done for years.... brings a boiled egg for her husband and sits. But something is awry. She stares blankly... inattentive for excruciating few minutes. She returns to the present but has no memory of zoning out. Georges is worried. And that is the beginning of the illness.
Anne has experienced her first stroke--a small, rather insignificant one. Soon Georges takes her to the hospital. Anne returns to the apartment, very much mentally alert, but her entire right side has become partially paralyzed. Dreadfully fearful of doctors and hospitals, she makes George promise that he will NOT ever take her back to the hospital. The remainder of the film revolves around this promise.
Choices must be made to cope with Anne's deteriorating condition. Almost all the "action" takes place inside their apartment and involve the independent and insular couple as they strive mightily to remain independent and retain their dignity. A few come to visit. Most are not helpful.
They have a middle-aged daughter Eva (Isabelle Huppert) who stops by expressing concern, but she cannot help. Eva has her own issues. Shocked by her mother's condition, she presses her father about appropriate care; she can not change the subject to happier topics. George routinely ignores her phone calls and never returns them. Taking care of his beloved wife becomes a full time duty; he cannot waste time with people who only sap additional energy.
At age 85, Emmanuelle Riva is the oldest actress to be nominated for the Best Actor Oscar. Her portrayal of declining health is subtle and heart-wrenching--delivering the most honest and painful portrait of a stroke victim imaginable. Even when she can no longer speak, her eyes communicate tomes. We grow to understand her world view and the devastating choices that she and her husband make in the end.
Amour ranks among the most touching and timeless films in recent memory--and certainly the most human.