About Me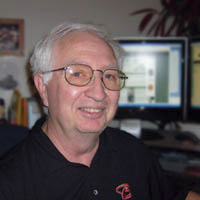 A member of the Online Film Critics Society (featured on Rotten Tomatoes) John Nesbit writes curriculum materials professionally for a computer company in the Phoenix area, but reviews media for enjoyment. Writing technical materials pays the bills, but he would rather be hanging around the Camelview 5 and writing critiques of the latest non-mainstream films to arrive in town.
Since Thoreau is his favorite author, it's no surprise that this product of the '60s has marched to the beat of a different drummer. John graduated from the University of Illinois with a degree in English and taught at an inner-city high school in Detroit for a year. He then completed graduate work at Michigan State University in special education for the emotionally disturbed before teaching in northern Georgia for 5 years, and then on to teach English at Tuba City High School on the Navajo Reservation for over 20 years.
During those years he became locally famous for coaching a 4-time state championship chess team and eventually became infamous among the school administration for challenging its film-rating policy when developing a film appreciation course.
John's knowledge of film has been self-taught from countless hours of viewing, reading, and researching the films he used for teaching (he never took any formal courses in film study). Being relatively isolated from cinematic culture on the reservation, John began buying many videos by Hitchcock, Truffaut, Fellini, Buñuel, and other classic directors.
Now early-retired from teaching and avoiding school administrators forever, he spends a great deal of time watching and reviewing films. Foreign and art-house films are a special passion. Other keen interests include: traveling extensively, music (especially blues), and following the Arizona Diamondbacks and St. Louis Cardinals during baseball season. Have recently joined Team in Training for fundraising hike (for blood cancer cures) in September in Rocky Mountain National Park; this is in memory of my Dad, who died last September after battling leukemia for over a dozen years.